Tiffany Keller
"Tiffany is an ads and gaming product leader, writer, and speaker with a track record of scaling 0 to 1 business units to over $150M run rates. She has PMed 4 different $1B+ franchises and the world's most downloaded game; every publisher she works with reaches a recording-breaking acquisition for their continent.
Currently she is the Product Director for Marvel Strike Force, a top 3 RPG at Scopely. Previously she directed product for Sybo's Subway Surfers up to a successful Miniclip acquisition after winning Pocket Gamer's 2022 global Winner of Best Live Ops and Forbes' most downloaded game of the decade. 
She started her ads career at Activision Blizzard, launching ads across King's portfolio games and building one of the largest ad publishing businesses in Europe across 3 studios.  She started in games as a Zynga PM during the company's "turnaround" that saw its market cap triple in 3 years."
What do you love about in-game advertising?
I love seeing the brands tie into the game I am enjoying- sometimes the ads can make it seem even more real!
What's your favourite game?
The Elder Scrolls franchise made me fall in love with gaming- I have been playing for 20 years and buy new consoles just to run these games better. I credit Bethesda with my passion for world building in the games I make.
John Rankin
John is a serial international entrepreneur, with over 20 years of success stories in start-up and commercial growth, spanning digital media, mobile technology and mobile games. 
With 3 successful exits in 2016 for a total of $1.4bn, as part of the founding teams of Smaato and Outfit 7 and Vieworks.
What you love about in-game advertising?
The passive nature and design of in-game advertising really harnesses messaging at volume to diverse and hard to reach audiences without harming the entertainment experience.
What's your favourite game?
Speed ball 2 (bitmap brothers). Incredibly fast, short game times, hyper competitive. And a good measure of Rugby style violence which reminds me of real life.
Richard Robinson
Over 25 years in Asia as an entrepreneur, exec, investor and advisor across:
Web 1.0 – (1995-2005) Read era

Web 2.0 – (2005 – 2020) Read/Write era

Mobile – (2000 – present) Services

Web3 – (2020 – present) Read/Write/Own.
As an Entrepreneur-in-Residence at Animoca Brands, I'm about empowering users to own and leverage digital assets to across blockchain games and metaverses. Previously with 8 startups as a co-founder or senior exec, and with dozens of others as an investor, board member, advisor or mentor (HAX, Chinaccelerator & 500).
First a senior exec at 3 companies from private to public, then went on to found 5 companies: 3 exited to publicly listed companies and 2 blew up.
What do you love about in-game advertising?
Another way to reach many more users around the world and open up free to play gaming for them.  We're at 3.4 billion – the biggest community in the multiverse!  We'll be at 5-6 billion before we know it!
What's your favourite game?
Mario Kart – I'm ol' skule and my boys both have Nintendo Switches and they love kicking my old ass on it.
Chris James
Publishing entrepreneur with a strong background in both editorial and commercial activities in print, online and mobile. The vast majority of experience has been focused in the games, football and consumer technology spheres in a career spanning over 26 years.
Starting out as a journalist and editor at Future Publishing for leading games and technology titles such as PC Format, PC Gamer and PC Guide writing articles and running teams, this then graduated into a broader role of creative and commercial oversight as creative director at contract publishing agencies Future Plus and JPP, producing projects for blue chip companies like Sony Pictures, BT, Blockbuster Movies, Currys/PC World and Virgin.
The years since 2006 have been primarily focused on founding and running the leading media and events company Steel Media Ltd (as CEO), publishing world-leading b2b and consumer websites for the mobile and broader games industry (such as pocketgamer.biz. pocketgamer.com, thevirtualreport.biz,
blockchaingamer.biz and beyondgames.biz), creating projects for leading companies (e.g. Microsoft, Nokia, EE, Samsung, Razer) as well as the PG Connects series of international conferences (www.pgconnects.com), the www.MobileGamesAwards.com, BigIndiePitch.com and numerous other events designed to connect, support and celebrate the growth of the c. $200 billion games industry.
Alongside this I did also run a side business in the sports world, running the leading fantasy football advice site www.FantasyFootballScout.co.uk, which serves millions of fans as well as providing content, tools and services directly for the Premier League, UEFA, Bundesliga, Sky and many others in the space.
Having exited both companies successfully in recent years to Nasdaq-listed media group Enthusiast Gaming (but remained involved as I still love them and the teams!), I have recently begun to make angel investments in the games and technology space, with about 10 small investments to date.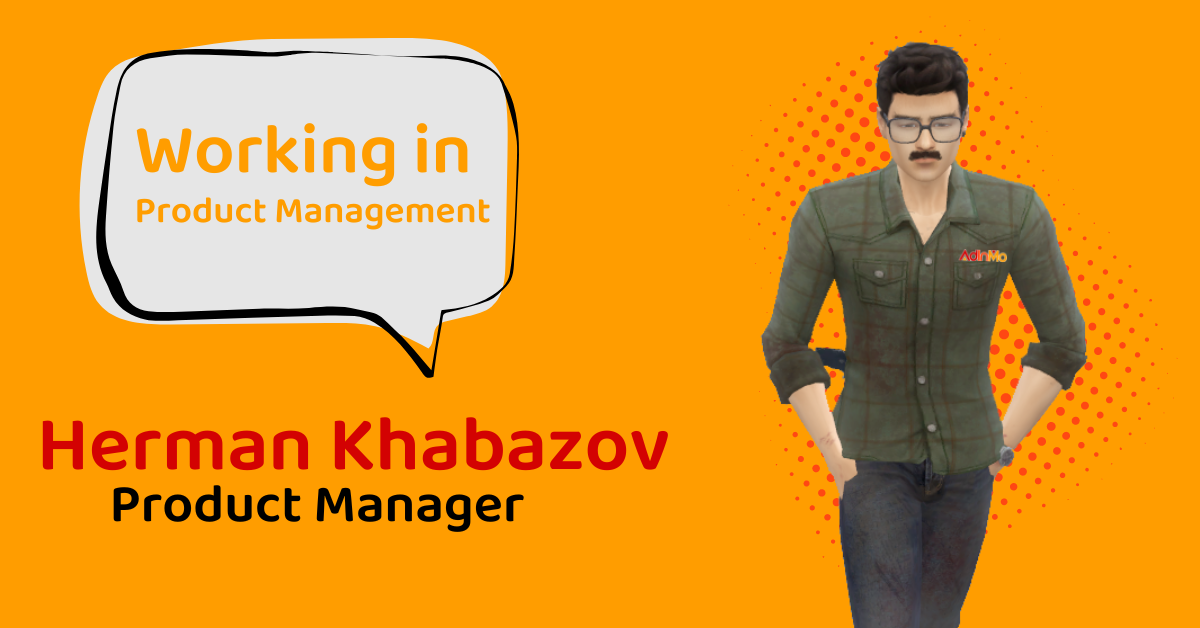 In the next installement of our team interviews we spoke to Product Manager, Herman Khabazov. Herman joined Team AdInMo from hyper-casual games publisher SayGames bringing an insider's perspective on ad monetization and ideally placed to understand what publishers...
read more