Executive Team & Board Directors
Kristan Rivers
CEO & Co-founder
Why did you found AdInMo?
My career at Apple, Paramount Pictures and various games developers taught me the power of storytelling through digital media and its unlimited potential for brands. I also lived in China and Asia as mobile became the primary internet portal for hundreds of millions of people. The opportunity to combine two media and tech trends to create better brand experiences is why I founded AdInMo.
What do you love about in-game advertising?
I fundamentally believe that gaming is the best medium to connect brands to audiences and the catalyst for this is the ubiquity of mobile, free-to-play gaming. The next unlock is to ensure we respect and value players' attention, and this is realized by creating relevancy through personalization.
What's your favourite game?
I'm always downloading new games and my favourite games tend to be casual sports or puzzle games that are easy to "snack" – playable in a few minutes here and there within my schedule. However, my favourite game of all time is GTA5; the expansiveness of the game map creates a totally immersive world. Non-Stop Pop is the one playlist my family and I can all agree on.
Role
I joined AdInMo as COO in late 2020 to team up with former colleagues Kristan and Chris. I've worked with the guys at three games industry start-ups where each company successfully navigated the rollercoaster with three exits. As COO, my responsibilities at AdInMo are diverse like the audiences in-game advertising reaches. I was appointed to the board in 2022.
What you love about in-game advertising?
The reason I joined AdInMo was the genuine vision and commitment to improve the player experience. Ad monetization has become a sophisticated and complex ecosystem, but the player got a little lost in that journey. Immersive ads that don't break gameplay and focus on brand engagement make the ad format game changing (pun intended).
What's your favourite game?
In my 20+ years career in the mobile games industry I've worked with some of the biggest publishers and games franchises, but my heart will forever be with Bub and Bob from the classic arcade game Puzzle Bobble.
Role
I am a qualified accountant and member of the Chartered Institute of Securities and Investments with over 15 years experience in varied roles.
In late 2020 I decided to leave the big bad corporate world and start working with companies experiencing period of fast growth, working with them as CFO/FD to help with their growth in addition to execution of transactions such as Fundraising & M&A.
What do you love about in-game advertising?
I have a strong interest in the in-game advertising sector because of the significant potential of the gaming industry, as well as the chance to create more appealing and less intrusive advertising for the user (coming from a dad of a 4 year old!!)
What's your favourite game?
If you had asked me before I had children, I would definitely have said FIFA or Call of Duty, however these days it's more about games that are easy to pick up and play and so my two favourite games are Match Masters and Stealth Master. In both cases, they are engaging concepts that keep you playing continuously.
Chris Wright

Non-Executive Director
Bio
I'm an investor, board member and technical advisor to AdInMo. I've known Kristan for over 20 years and 5 years ago we talked about the idea behind AdInMo.
I've been in the games industry since the mid 90's. Mostly on the tech side, I've been a software engineer, producer and CTO. In 2010 I co-founded the game analytics tech start up deltaDNA which was acquired by Unity in 2018 and is now Unity Analytics.
What do you love about in-game advertising?
In-game advertising adds rather than detracts from a game. It makes the game feel more 'real'; grounding the experience while not interrupting the gameplay and stopping me from playing. What is there not to love?
What's your favourite game?
I love car racing games, so Burnout 2 Takedown has to be my all time favorite. I'm currently playing Grid Legends and NFS Unbound (obviously), although I still play Forza Horizon 4 because I can drive round Edinburgh in very expensive cars 🙂
Alex
Carloss
Non-Executive Director
Bio
Alex has held leadership posts for more than 25 years with best-in-class media and technology businesses. Early in his career, he held positions at The Walt Disney Company, WarnerMedia, Electronic Arts and Metro-Goldwyn-Mayer Studios. At Paramount/Viacom, he launched and helmed the studio's digital distribution division. From 2011-2019, he worked for Google, steering YouTube's original programming and partnerships businesses across Entertainment, Sports, News, Family and Gaming verticals globally, leading initiatives that supercharged YouTube's ecosystem of creators, brands and fans. Since 2019, he has focused on the $100B mobile games category, both as a principal of N3twork Studios as well as blockchain games startup, Forte, where he presently works. Mr. Carloss holds a Master of Arts from the University of Edinburgh, is a recipient of the annual Deloitte Award for Innovation and resides in Los Angeles, California.
What's your favourite game?
Favorite game. PaRappa the Rapper – because who doesn't want to be a paper-thin, beanie-wearing puppy rapping his way through life 🙂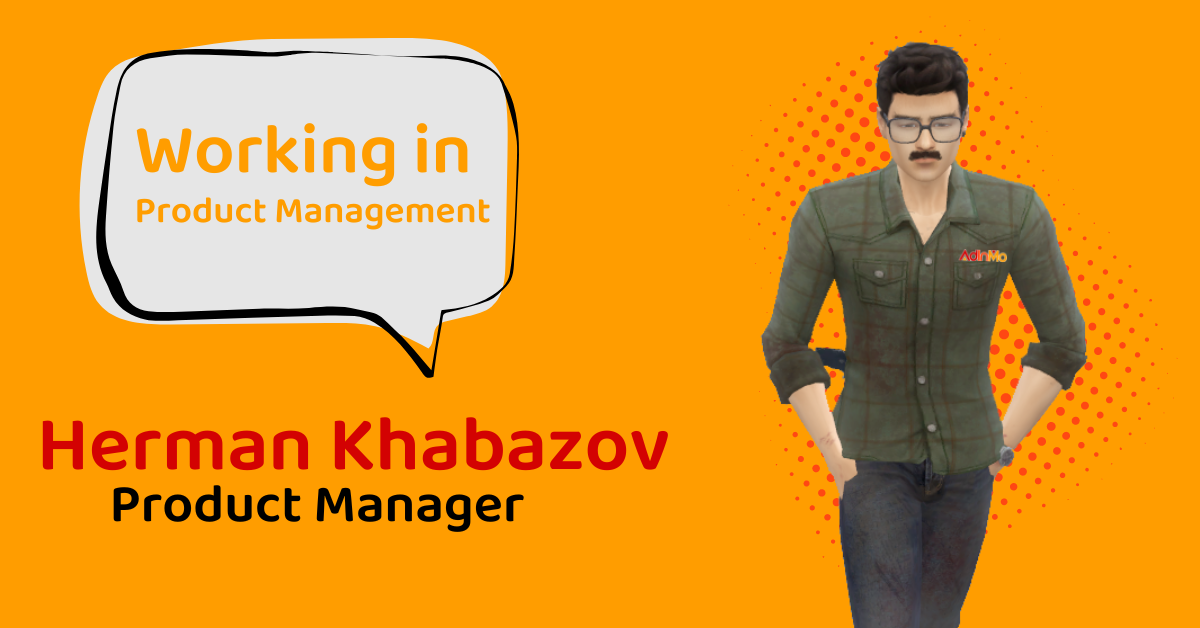 In the next installement of our team interviews we spoke to Product Manager, Herman Khabazov. Herman joined Team AdInMo from hyper-casual games publisher SayGames bringing an insider's perspective on ad monetization and ideally placed to understand what publishers...
read more